RailGuard Fencing for railways and roads
M&M Timber are approved suppliers for Railside fencing into Network Rail and their framework contractors. Having demonstrated sufficient quality and controls throughout the pressure treatment process RailGuard timbers are approved for both:
Class A – Timbers with a minimum service life of 25 years
Class B – Timbers with a minimum service life of 15 years
RailGuard timbers are available in a range of sizes, which match the latest Network Rail specifications. A 4-way square point ensures that posts and strainers tighten firmly, even at the point of tensioning wire.
All species are carefully selected, processed and packed in a sticked format ready for the kiln drying process. RailGuard timbers are kiln dried to achieve a moisture content of 30% and below. Machine rounded timbers are then incised prior to pressure treatment.
M&M Timber offer standalone warranties on both Railguard options:
Both warranties can be registered online using the warranty page, and M&M Timber will offer free of charge replacements in the event of any premature failure due to fungal rot or decay. View further information on warranties and terms and conditions.
All Railguard timbers are FSC Certified and are backed by the independent WPA Benchmark accreditation. The WPA benchmark scheme relates specifically to the durability (resistance to biological degradation) of wood treated with preservative by an industrial impregnation process. It applies specifically to a treated product such as a post. Products certificated under this scheme are verified as being compliant with BS8417, the wood preservation code of practice
RailGuard timbers have already been the product of choice for framework contractors, with a 50KM project completed between 2015/16 in South Wales.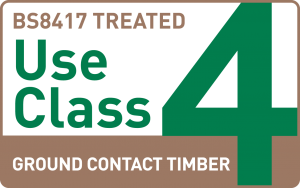 RailGuard meets Use Class 4 (UC4) BS8417 for ground zone requirements